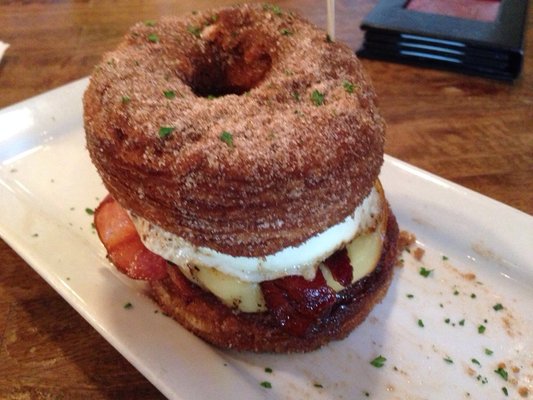 ***** (5 stars)
This comfortable neighborhood bar offers a great environment for drinks, lunch, or casual dinner. The extensive menu takes a gesture pub approach, with a variety of offerings, but the stars of the show are the burgers.
What's great about the burger selection here is that every burger is distinctly different, with a true range of flavors from spicy to beer-glazed to caramelized and even peanut butter and jelly! All burgers are a half pound, cooked any way you like, and most come on a pretzel bun, accompanied by your choice of side item. My favorites are the Drunken Monk and the Crone burger (which comes on a cinnamon dusted croissant/donut and is pictured above).
The bistro fries, with a strong rosemary flavor, and the sweet potato tater tots are two good choices.
Definitely in the running for best burger in Orlando.
Teak Neighborhood Grill
6400 Times Square Ave
Orlando, FL 32835
(407) 313-5111
http://www.yelp.com/biz/teak-neighborhood-grill-orlando