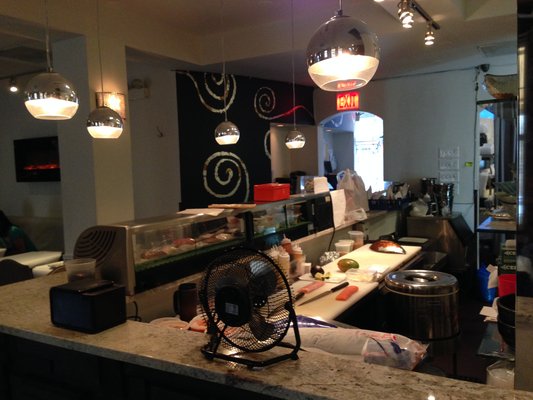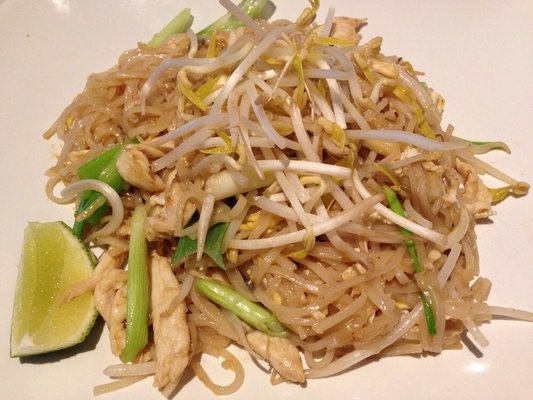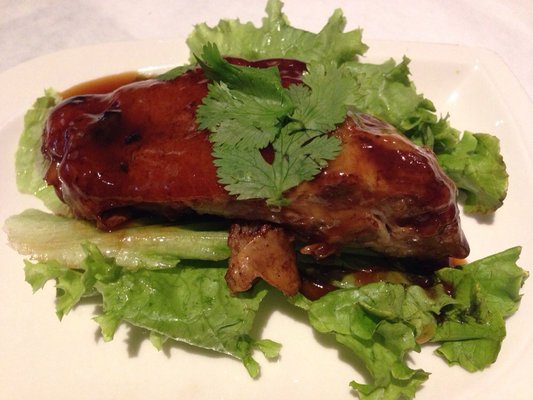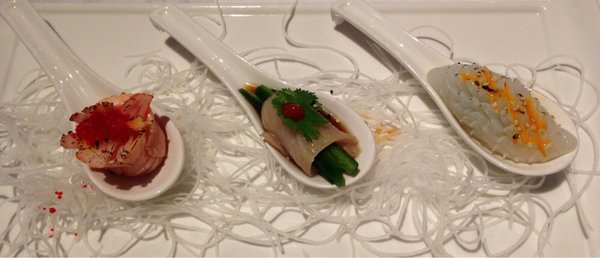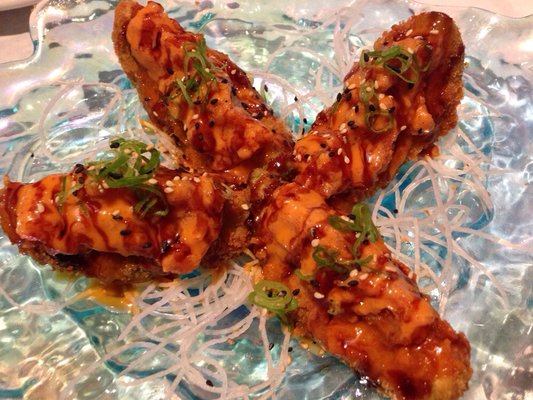 **** (4 stars)
Anna's offers a broad range of Asian cuisines and preparations–eight pages worth, in fact. From sashimi to Thai, curry to noodles, dumplings to roti, you'll find a bit of everything here. I sampled a number of their small plates, and a noodle dish, and all were good.
There are quite a few house specialties, but perhaps the best known is the Stuffed Avocado, a tempura fried avocado with spicy tuna. The dish is quite rich, and the four pieces would make a good starter for a party of four, or a heavy one for a party of two.
The Trio Blossom is served on three spoons, one with squid and basil, one with hamachi (yellowtail in this case, often amberjack) wrapped around jalapeño and cilantro, and one with kani kama (fake crab) wrapped with salmon. I found the exterior of the squid pleasant, but the interior was rather slimy compared to others I've had. The yellowtail was the most successful, the jalapeño nice and crisp and not too spicy. As a result, I think the Rising Sun Roll would have been a better (and cheaper) choice.
The Chef's Sake Baby Ribs was actually one rib, marinated in a tasty homemade tamarind sauce. It was good, but seemed a small portion to share, and too expensive to justify for one.
The Pad Laos was a nice variation on Pad Thai, with an emphasis on ginger and scallions rather than a typical heavy Pad Thai sauce. The lime wedge provided a nice dose of acidity.
Service was extremely friendly and attentive, and I felt welcome from the moment I stepped in the door.
Anna's is BYOB, and they did a nice job serving the Champagne brought by a neighboring table. I found it odd in a gourmet Asian restaurant that the green tea was a Lipton tea bag.
I wanted to try a wide variety of preparations, and took my server's recommendations of the house specialties. They were all good, although I didn't feel there were any home runs. I think on a return visit I would focus on the sushi rolls.
Anna's Asian Grill & Sushi Bar
1804-06 W Irving Park Rd
Chicago, IL 60613
(773) 975-3404
http://www.yelp.com/biz/annas-asian-grill-and-sushi-bar-chicago