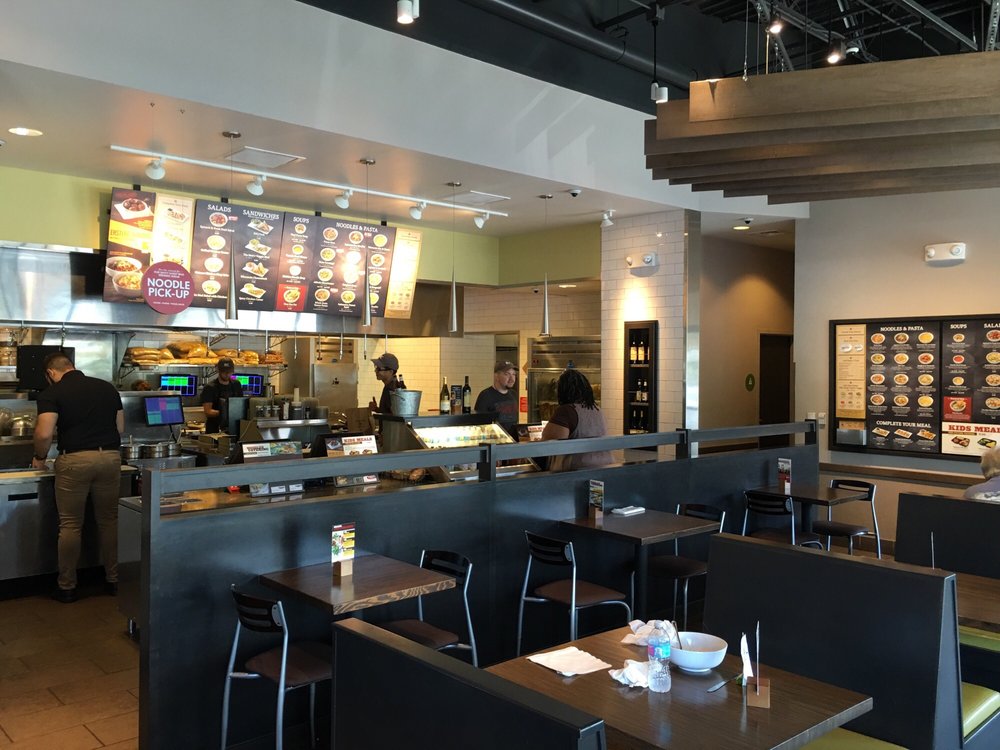 **** (4 stars)
This is a very well run outlet, with friendly staff and a nice seating area with a roll-up glass door that lets in a bit of the outdoors.
The menu offers a good variety of different noodle-based cuisines, plus salads and soups. The noodle dishes have the same issue as at Pei Wei where the calorie counts look attractive until you realize there are two servings in each bowl. However Noodles and Company has come up with a great solution. Their "Buff" bowls leave out the noodles, and substitute spinach, while doubling the other ingredients.
I tried the Buff version of the Japanese Pan Noodles. It seemed funny to remove the Japanese Pan part from the dish, but it more than halved the calories, to just 320 in the whole bowl. And it was extremely tasty. I feel like I got all the flavor, without the carbs. And since the veggies (other than the spinach and cilantro) were hot, it didn't seem like a salad.
As with the other bowls, you can get a side dish. I had a Caesar salad (side salad with a salad, ha!) and it was also tasty, and added only another 90 calories.
They also have the Coke Freestyle machines that can make a hundred or so different combos, including many with no calories.
In all, quite a satisfying low-cal lunch.
Noodles & Company
7822 W Sand Lake Rd
Orlando, FL 32819
(407) 354-1301
http://www.yelp.com/biz/noodles-and-company-orlando-3