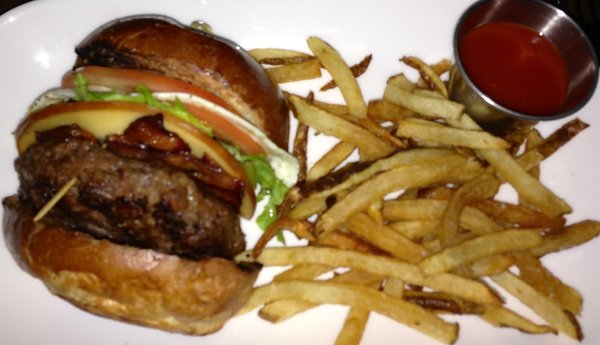 **** (4 stars)
This place is the second outpost of Farmhouse, and it has been an instant success, packed every time I've looked in. The theme here is local sourcing, and nearly everything on the menu–even including the wines, beers and spirits–comes from nearby.
We shared the stuffed trout and a burger. The trout was served on black quinoa with a red berry sauce. The berry sauce made the otherwise fairly bland dish pop, but there could have been a bit more than the little drizzle. The burger was thick, perfectly cooked, and on an excellent bun. Accompanying fries were a bit thin and limp for my taste.
Ambiance is lively, and the spirits list is very interesting. This explains why the bar is so packed. Definitely a place to check out when in Evanston.
Farmhouse Evanston
703 Church St
Evanston, IL 60201
(847) 492-9700
http://www.yelp.com/biz/farmhouse-evanston-evanston