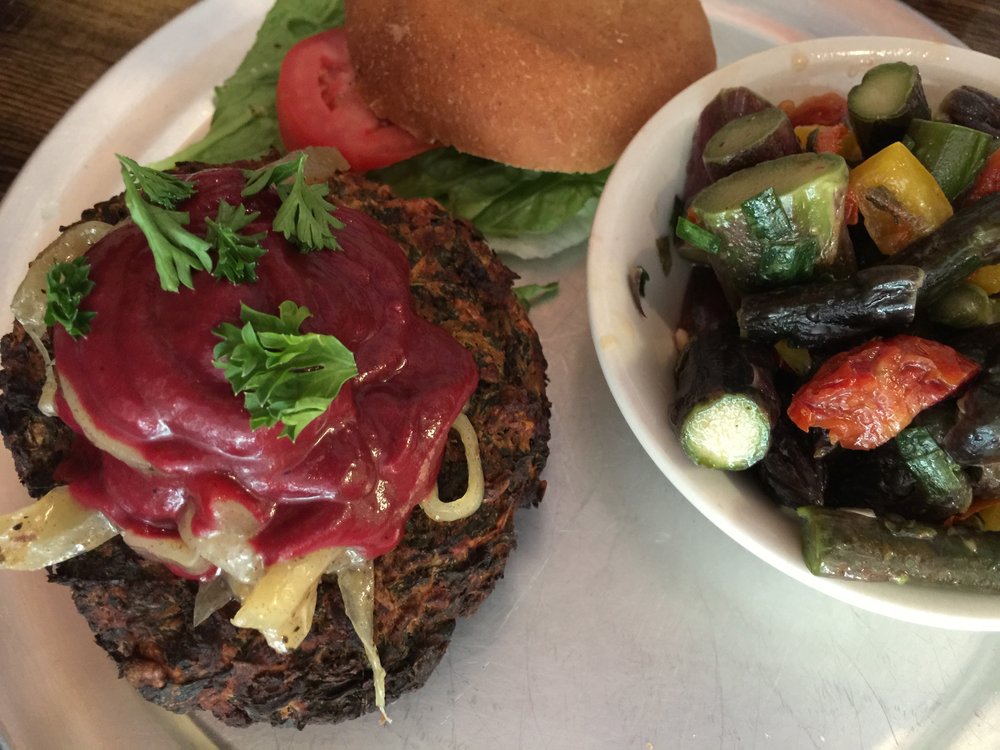 **** (4 stars)
It's always a pleasure to eat where the employees are really passionate about what they do, and that epitomizes The Amazing Kale Burger. From the moment I walked in I felt right at home, and my server's enthusiasm for the food was very clear.
I tried the Vaden, which is served with a beet-based BBQ sauce. The kale burger patty is quite delicious, with all the ingredient in balance, and a nice crust from cooking. The accompanying lettuce and tomato were quite fresh, and the BBQ sauce was delicious. The bun was a bit small, sturdy and dry for my taste, but I can see where others might like it.
For a side dish I had pickled asparagus, which was tossed with yellow peppers and extremely fresh oregano bits. It was delicious.
House made mint tea was pleasantly unsweetened.
The kale burger was one of the better vegetarian patties I've had, and I'd often choose it over a meat patty if it were available elsewhere. Coincidentally, I ate here on national burger day!
Amazing Kale Burger Lunch Counter
741 Howard St
Evanston, IL 60202
(847) 660-4330
http://www.yelp.com/biz/amazing-kale-burger-lunch-counter-evanston