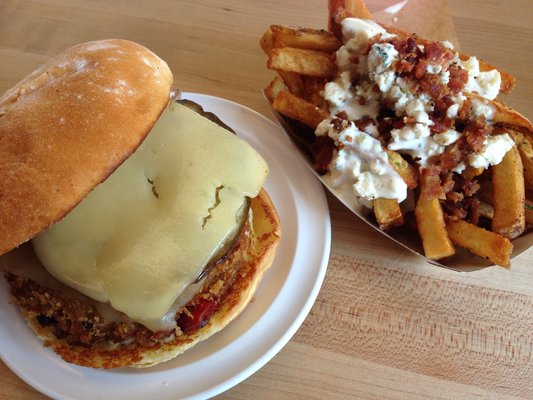 **** (4 stars)
It's nice to find a burger place with table service. This small restaurant offers counter service to go, but if you want to eat in, just have  seat.
The veggie burger I had was delicious, with a nice crust, and moist, tasty filling, and good toppings. The bun tended to self-destruct, even though it had been nicely grilled, but fortunately I had a knife and fork!
The fries were tasty but a bit soggy, although that was mostly masked by the excellent blue cheese and bacon topping.
Service, by Tess, was great, friendly and informative. Nice place.
DMK Burger & Fish
815 Noyes St
Evanston, IL 60201
(847) 424-8226
http://www.yelp.com/biz/dmk-burger-and-fish-evanston