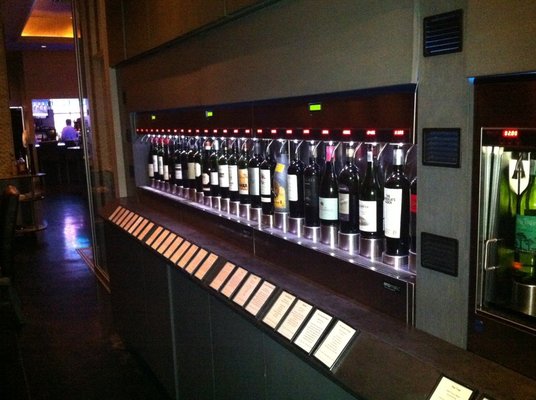 ***** (5 stars)
Cuvée Wine & Bistro has an interesting business plan, which combines two different concepts: a restaurant, and self-service wine dispensers.
It occupies part of a former bank building, but has been redecorated in a pleasant, trendy way. High booth backs keep the noise level down, although the old farts next to us were quite rowdy. Each dining room is surrounded by rows of wine dispensers, some refrigerated for the whites, others not, for reds. There are well over 100 selections, available in 1, 2.5 or 5 ounce pours. As with other such places, you load a card with money, and then it's debited as you use the machines.
We arrived at 6:30 and things were fairly quite, but the restaurant soon filled up. What's interesting about the success of the place is that it doesn't seem to be driven by all the wine dispensers that surround the dining rooms. We saw few other patrons wandering around to try different wines with each course. Instead, most either let the waiter bring them a glass of something, or ordered a bottle for the table. Still, being surrounded by all those glowing bottles probably boosts wine sales. I couldn't see the bar from where we sat, so I don't know how much tasting traffic originated there.
The food was mostly very good. A cheese sampler plate offered a nice variety, and my clam appetizer was delicious. Salads were fine, and the steaks Linda and Martin had were good quality. I liked my eggplant napoleon, too. Service was excellent: attentive yet not rushing us.
The wines are more fairly priced than at the other self-serve wine place I've been to. Unfortunately, of four high end wines we tried (Tapestry, a Nuits St. Georges, a Pommard, and Dominus) all were spoiled by having been open a long, long time. As evidenced by the strong geranium smell, the dispensing system can't keep them good forever. Our waiter cheerfully credited us for the wines we complained about, but they should have been removed, rather than left for the next sucker. None of the lower priced selections had this problem, and we tried many. Best QPR (quality to price ratio) was the Bell Petite Sirah.
It was fun to try small tastes of many different wines with our food. We all agreed we would return.
Cuvee Wine & Bistro
2237 SW 19th Ave Rd
Ocala, FL 34471
(352) 351-1816
http://www.yelp.com/biz/cuvee-wine-and-bistro-ocala