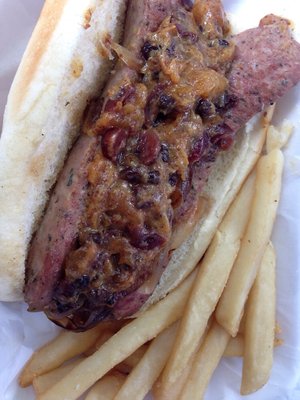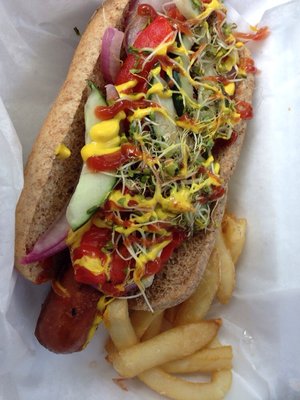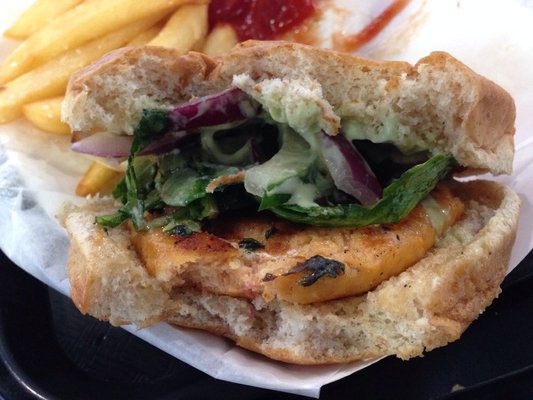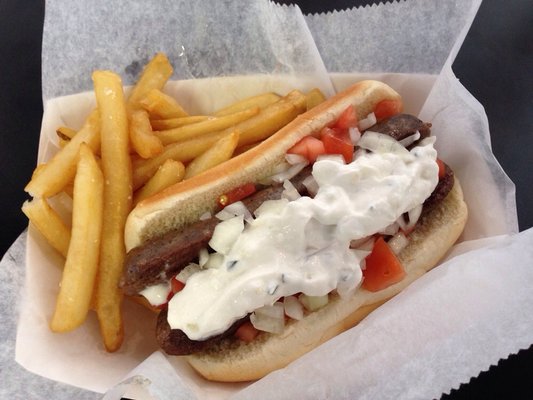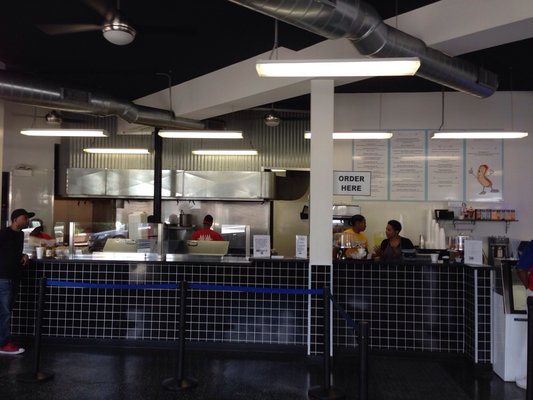 ***** (5 stars)
Chicago is looking for the successor to Hot Dougs, and not only is H-Dogs a candidate, I think it's even better, because they make the single best salmon sandwich I have had anywhere! In fact, when I go back, I'll just skip right past their excellent dogs, and get me another one. It was a perfectly grilled salmon filet with crisp greens, red onions, and a zesty horseradish infused dressing, all on a wheat bun.
I also sampled the Greek, vegetarian and French dogs. The Greek was essentially a gyro, with lamb, tomatoes, onions and a their version of "tzatzki" sauce. The Healthy Hound is a vegetarian dog that's a bit more in the style of a Chicago dog, but without the pickle, and with roasted peppers. The French was the richest dog I tried, duck sausage smothered in caramelized onions.
All the dogs were good, but I kept going back to that salmon burger!
Everything comes with excellent French fries, served crisp and piping hot. The inclusion of fries makes the pricing of the dogs and burgers much more attractive.
There's also a rich chili, available in both vegetarian and turkey versions. I got this to go, and it was great reheated later.
H-Dogs is definitely worth the trip south, and it's pretty convenient to get there on Lake Shore, so I'll certainly be back… for more salmon burgers!
H-Dogs
4655 S Martin Luther King Dr
Chicago, IL 60653
(773) 633-2978
http://www.yelp.com/biz/h-dogs-chicago