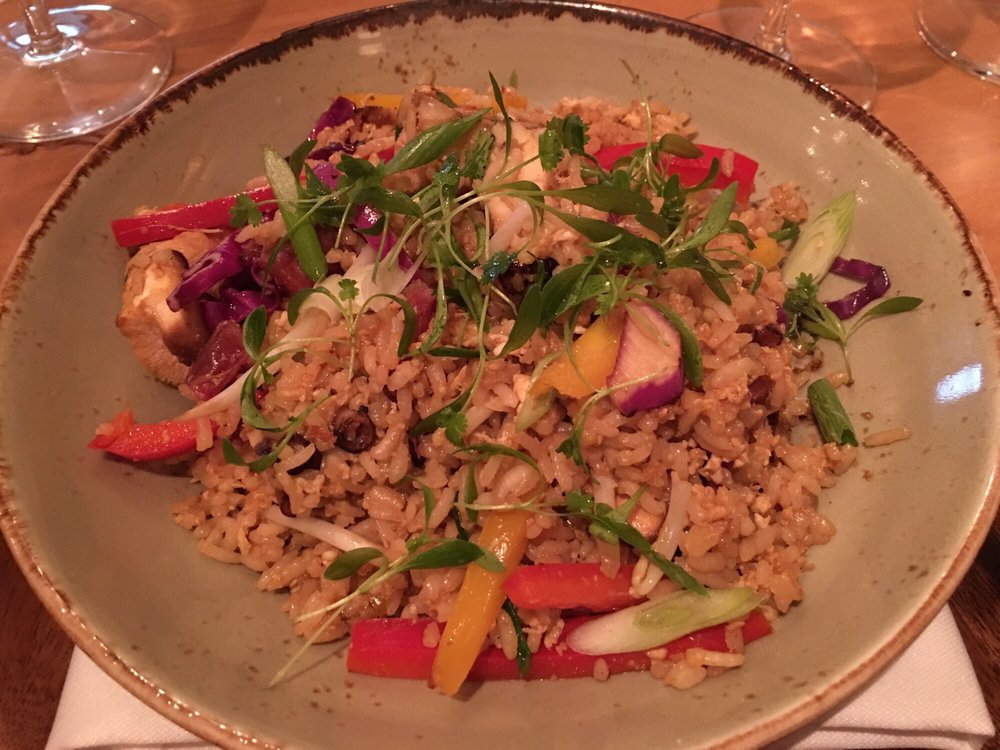 *** (3 stars)
The challenge a new restaurant faces is threefold: providing good food, good service, and attracting customers. 1921 has succeeded on two out of three.
The customers are no problem. Open only a week or two, the restaurant was packed when we visited. Unfortunately, although the decor is beautiful, it didn't include acoustic treatment, so the dining room was at a deafening level–enough that my companion and I had to keep repeating ourselves, even though we were at a small table for two.
The food also passes muster. I've never been a huge fan of Norman's at the Ritz Carlton, but I thought three of the dishes we had here were better than anything I've ever had there.
The Caesar salad was enlivened by some lemon zest, a trick I will try at home.
Chaufa "Aeropuerto" was an Asian-influenced fried rice dish with grilled octopus and sausage. The octopus and sausage were just okay, but the rice flavors were wonderful. This is a large starter, but would make an excellent side dish.
The fried cornish game hen was excellent, like a wonderful fried chicken, and served with good collard greens and mac and cheese.
The only miss was the duck breast that our waiter highly recommended. It looked unappetizing, and the "mole" sauce bore no relationship to a true mole, overpowered by odd tasting herbs.
The third aspect of a good restaurant is the service staff, and the place was certainly heavily staffed. But our waiter was in way over his head. Upon taking our order he told us he'd "try to get the wine out as soon as he could," as if this required some Herculean effort. Apparently it did, as it didn't arrive until we were almost done with our first course. Someone should also mention to him that you present the bottle before opening it, and you don't fill the wine glasses to the brim to save yourself a trip later. And had we not anticipated his failure to pace the meal, I'm pretty sure our entrees would have arrived before we'd even finished that course.
Management seemed involved, so perhaps this will be corrected as they adjust staff levels.
Overall I'd say that if you're in the area and want good food, 1921 is worth a try, as long as you don't plan on having a conversation during dinner.
1921 by Norman Van Aken
142 E 4th Ave
Mount Dora, FL 32757
(352) 385-1921
http://www.yelp.com/biz/1921-by-norman-van-aken-mount-dora