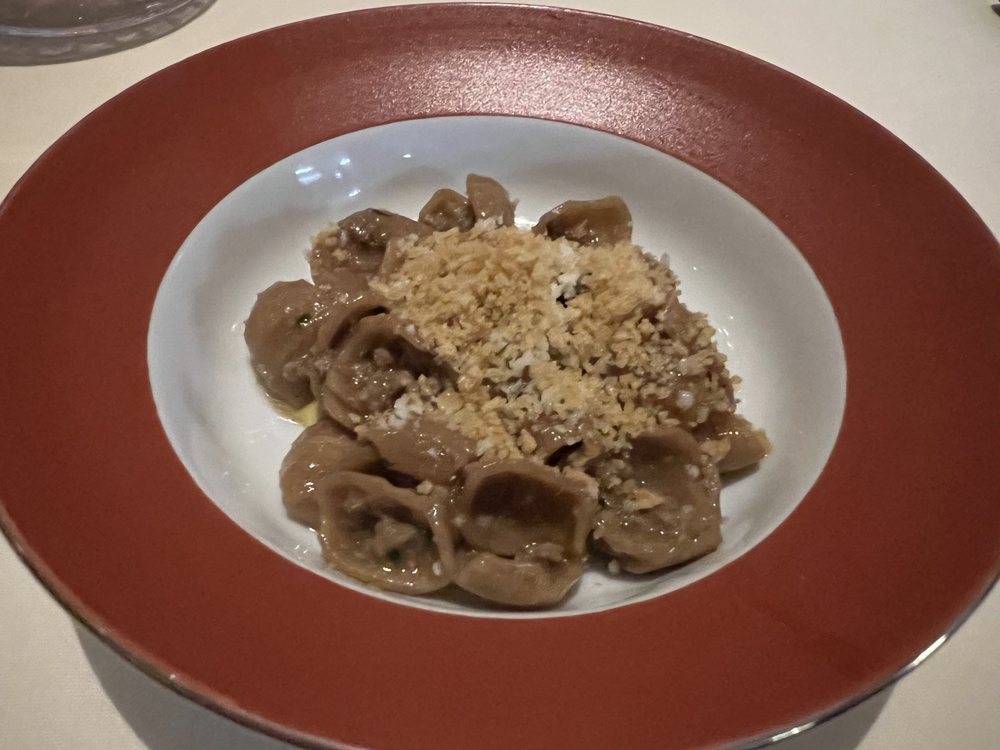 ***** (5 stars)
Gabriel Kreuther is wonderful in all respects, from ambiance to food to service. For me, it is the successor to Eleven Madison for the crown of Best Restaurant in New York, and one of the best in the US.
The dining room, with its dramatic arc of salvaged wood beams, is both open and intimate, with the tables spaced far apart to make each one cozy, and the ceiling high enough to afford a pleasant sound level. A glass wall affords a view of the kitchen, which is a busy hive of about twenty chefs and cooks under the supervision of Chef Kreuther. The atmosphere seemed more convivial than in many of the Michelin kitchens I've encountered.
The restaurant's recommendation for first-time guests is the Six Course Tasting menu. This is not only a great recommendation but a great bargain. At $215 (as of this writing) it is, in short, a steal. I don't know how they came up with the number six, but including amuse bouche and ending sweets, there were at least 15 different dishes over a three-hour period.
Speaking of dishes, these were some of the most beautiful serving pieces I've ever encountered, and the glassware is stellar as well.
As for the food, it is almost pointless to describe it, as everything was wonderful, and it was impossible to pick favorites. It changes regularly, but I will mention a few that rank among the best dishes I've ever had: pate de foie gras (best flavor/texture I've encountered), smoked heirloom tomato consume (more of a gelatin, and endlessly intriguing), sturgeon tart (delicate flavorful and complex), and all the breads (there were at least four, accompanying various dishes).
As mentioned earlier, service was near perfect, with two dozen wait staff performing an intricate (and high speed) choreography to synchronize each course at each table.
Compared to the food prices, the wine bottle prices seem like less of a deal, but are certainly not unreasonable for Manhattan. The wines by the glass are an interesting assortment of styles and places of origin.
This is my new favorite restaurant in New York.
Gabriel Kreuther
41 W 42nd St
New York, NY 10036